NIGHTLIFE IN TURIN
Need more apericena and cocktail!
Special pack of 3 days and 2 nights
For this special pack of 2 nights, Torino Emotion takes you for a weekend to discover the backstage of Turin: the nightlife. Live the unique ambiance of the neighborhood the most trendy to go out with your city-sherpa. With him, you'll go in bars and restaurants where you'll find only Italians! The evening carries on tasting the famous cocktails with vermouth created in Turin.
Day 1
Accommodation in hotel.
Start with a visit of the popular area of Quadrilatero romano, ancient roman neighborhood, with your city-sherpa. He gonna tell you all the secrets to live a true torinese evening and what you absolutely have to do: local and traditional habits, tasting new flavor, chatting with local, learning some Italian words…
Enjoy your fist dinner in one of our selected restaurant by Torino Emotion, a typical trattoria.
Back to the hotel.
Day 2
Morning
Breakfast in hotel.
Our advice is to visit the historical city centre of Turin and to discover the ancient city of the Duke of Savoy: via Roma, Pizza San Carlo, Piazza Castello, Via Lagrange, Piazza Carlo Alberto and Via Po.
Lunch and early afternoon free.
A lovely delight is waiting for you in one of the historical coffe bar for a tasting of biscuits or for an ice cream.
To begin your evening, we take you in a very special place to try the apericena, dear to the torinese. The tradition of the apericena is a mix between the aperitif e the cena (dinner). With the buffet made of italian specialities, you will have a large choice of pasta, salatini, pizza, insalata… Try all the different dishes to taste all the different piedmont flavor!
After this lovely gourmet break, enjoy a walk to discover the spirit of Turin on the nightfall.
Continue your evening in a cocktail bar to taste drinks with vermouth, famous alcohol created in Turin.
For the night owls, walk to the Piazza Castello, meeting point of the torinese and carry on via Roma o via Po.
For the most curious, you can ask to meet again you city-sherpa to continue to discover the habits of torinese (supplement cost).
Back to the hotel.
Day 3
Morning
Breakfast in hotel.
For your last day, we advice to carry on with the discovery of the town and to enjoy a walk in the Valentino park, along the river Po.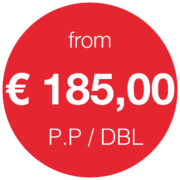 VALIDITY
All year long
DURATION
3 days – 2 nights
THE OFFER INCLUDES
• 2 overnights stay in 3 star hotel with breakfast
• 1 hour with city-sherpa
• 1 apericena with 1 drink
• 1 delight (biscuits tasting or ice cream with 1 beverage)
• 1 piedmont typical dinner
• 1 cocktail in a selected bar by Torino Emotion
In option
• 1 hour with city-sherpa on saturday evening
• tour in Eco-Bus of the city centre
• guided tour
• entrance in one of the biggest SPA
RATES
Overnight accomodation in 3 star hotel from  € 185,00 per person.